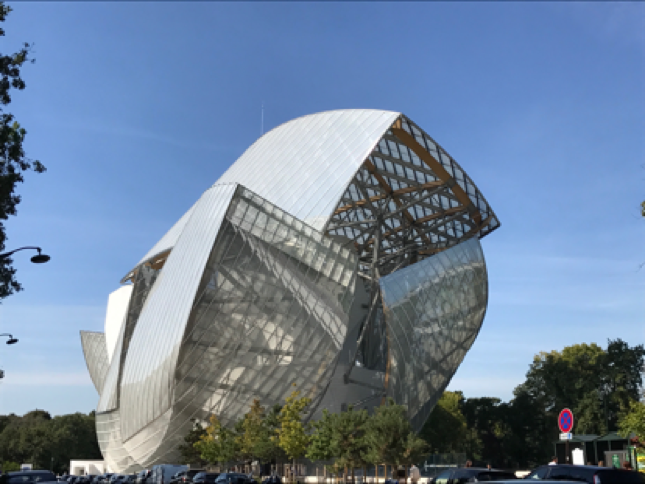 Fondation Louis Vuitton, photo by Yasuhiko IZUMIMOTO
Located in the north eastern part of the Bois de Boulogne, this building is a little more than a 5-minute walk from the Les Sablons metro station (line 1). When it comes into your sight, you will be astonished. Fondation Louis Vuitton, opened in 2014, is a multinational facility of the LVMH group led by Bernard Arnaud, and was designed by Frank Owen Gehry, a Canadian American architect.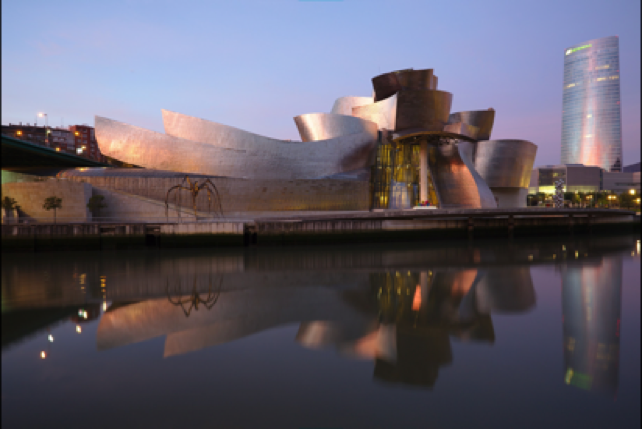 Guggenheim Museum Bilbao (Wikipedia)
It was Guggenheim Museum Bilbao in Bilbao, Spain which opened in 1997 that gave the fame to this designer worldwide. The rolling form covered by metal plates is said to be a powerful and masculine architecture. On the contrary, Fondation Louis Vuitton is a feminine architecture with milky white glass clothes on. It is supple and transparent.
The designer started studying about software applied to aircraft design, etc, as he was once dissatisfied with the curved finish of the spiral staircase. The studies made it possible for him to design complex shapes like the Guggenheim Museum Bilbao and Fondation Louis Vuitton. (The very best of museums, Brutus Casa, 2017.)
His commitment to the details opens the door to a new world, and as a result it demonstrates creativity that no one could possibly imitate. Ambition and curiosity generates much higher performance.